Android phones become more and more popular even though iPhone 6 & iPhone 6 plus has been released. Not all the Android phone users can afford to iPhone 6 when their Android phones were broken or stolen. There are many styles of Android phones such as the most-popular Samsung Galaxy series (Samsung Galaxy S3/S4, Samsung Galaxy Nexus) and Note series, also many amateur HTC (One, EVO, Sensation), Motorola, Sony Xperia, Sony Ericsson, LG, Huawei, and more. Each android phone enables all the hot apps with no reason to choose and each Android phone provides an efficient way to contact with each other.
However, have you met the bad luck that your mobile phone has a stroke that all your Android photos, contacts, messages are gone! No mater you believe or not, there are nearly 2 billion of mobile phones get lost or stolen each year. So learn to backup or recover all your mobile phone data is much more necessary than certain precautions. When you are unlucky to get your mobile phone lost, which kinds of data is the first-hand retrieve? Contacts or text messages? As to the importance of these two basic functions – contacts and text messages, learn to backup first or recovery when your android phone get stolen. When you need some tools to backup or recover your data, you will be got puzzled! How do you recover deleted contacts from Android phone, MobiKin Android Data Recovery will help you out.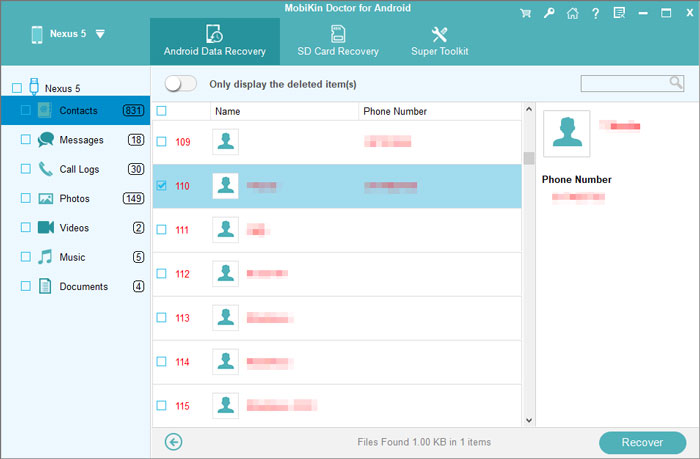 Main Features of MobiKin Doctor for Android
Be capable of recovering up to 8 types of Android data including: Contacts, Messages, Media Files (Photos, Movies, and Music), Documents, etc.
2) Contacts and SMS will be restored and saved as TXT or HTML format on your computer.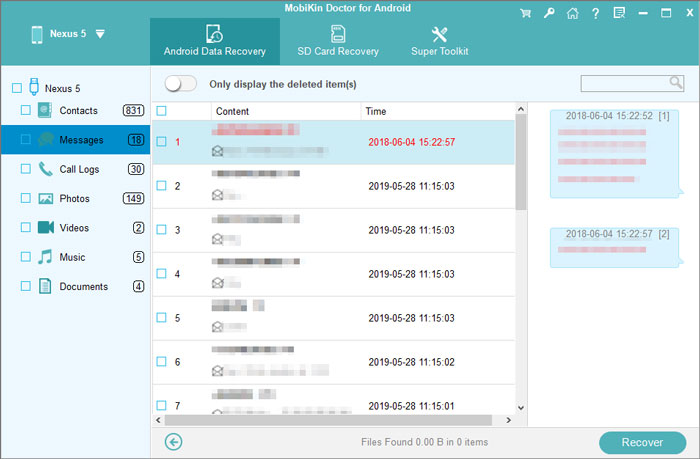 Media and document will be preserved as its original format for further editing and viewing as you like.
Work well with all Android devices manufactured by Samsung, HTC, Motorola, LG, Sony, Google, Asus, and so forth.
Conveniently to view the deleted or lost data since they are marked in red color.

MobiKin Android Data Recovery could me the most strongly recommended powerful software for helping you deal with the troublesome problem of messages and contacts recovery. It is an excellent tool for recover data, which has a compatibility with the majority of Android phones including Samsung Galaxy series, Samsung Note series, HTC series, Motorola, Sony Ericsson, LG, Huawei and so on.
Moreover, MobiKin Doctor for Android helps you safely retrieve SMS, Contacts, photos, videos and other documents. What's more, you can preview your deleted text messages or contacts one by one before saving them to your computer. Under the help of MobiKin Android Data Recovery, your accidently deleted messages or contacts, or all your mobile phone get lost or stolen, it can finish with all the data recovery. The steps are easy to follow on their official website and read this article on how to recover lost messages on Android phone or other brand phones.