Have you ever dreamed of hearing Mickey Mouse read your text messages or narrate your stories? With Character Voice AI and TopMediai TTS, it's now a reality!
This AI-powered tool allows you to generate text in any voice you choose, including Mickey Mouse's signature cheerful voice. In this article, we'll show you how to use Character Voice AI to generate text in Mickey Mouse's voice. You'll be amazed at how realistic the results are!
The Enigmatic Mickey Mouse Voice
Since his debut in 1928, Mickey Mouse, the adorable and famous Disney character, has grabbed the hearts of people of all ages.
Walt Disney and Ub Iwerks invented him in 1928, and he has since featured in hundreds of animated films, TV series, comic books, video games, and merchandise. His voice was initially provided by Walt Disney, who also provided the voice for the first sound cartoon, Steamboat Willie.
How Do I Make My Voice Sound Like Mickey Mouse
You want to sound like Mickey Mouse, right? It's actually simpler than you would imagine! You must increase your pitch and talk in a falsetto voice to sound like Mickey Mouse.
Using a character voice generator text-to-speech tool is the greatest method to make the voice of Mickey Mouse. This program allows you to create audio clips of Mickey Mouse speaking whatever you want.
What is the Most Popular Character Voice Generator
Many character voice generator software is accessible online, however, not all of them work well for producing Mickey Mouse's voice. Mickey Mouse has a high-pitched, cheery, and pleasant voice that necessitates the use of a tool that can modify the pitch and edit the voice.
TopMediai TTS is an excellent choice for individuals who need to change the pitch of the produced voice. It also offers a variety of features that make it excellent for generating character voice AI, such as the ability to add reverb and echo effects.
Top Character Voice Generation Tools- TopMediai Text to Speech [ONLINE]
TopMediai Text to Speech is an online tool that helps you turn text into spoken words, and it's super easy to use. You can choose from a vast selection of voices, including the famous Mickey Mouse voice.
The best part about TopMediai, a top-notch character voice generator, is that it allows users to edit the parameters of the generated voice. It's quite affordable. There's even a free option to try it out and see if it suits your needs. As a result, you may easily produce Mickey Mouse's voice and other voices.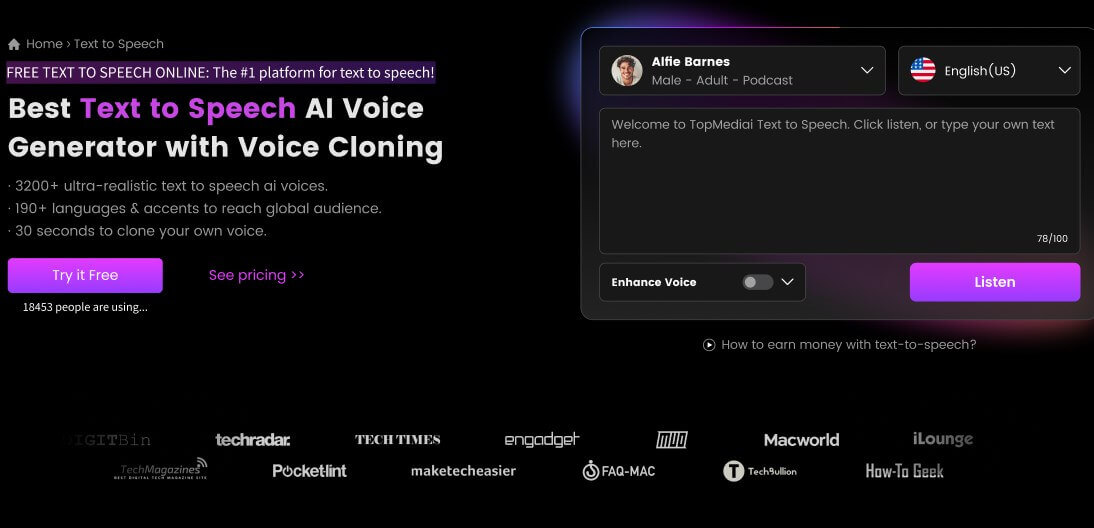 1. Key Features of TopMediai Text to Speech
It offers a vast library of 3,200+ voices, including popular characters and celebrities.
With 70+ voices from around the world, it caters to diverse language and regional needs.
TopMediai employs advanced speech synthesis technology for high-quality results.
Ability to transform text into rap lyrics in the style of your favorite artists.
You have the power to control the speed and volume of the generated voice to suit your needs.
Generate various character AI voices effortlessly, from SpongeBob to Goku and Mario.
You can fine-tune volume, pitch, and emphasis for natural-sounding effects.
2. How to Use TopMediai Text to Speech [Full Guide]
Step 1: Start by visiting the TopMediai Text to Speech website.
Step 2: Once you're there, input the text you'd like to convert into speech using Mickey Mouse's AI voice.
Step 3: Now, select "Mickey Mouse" as your preferred Disney voice from the available options.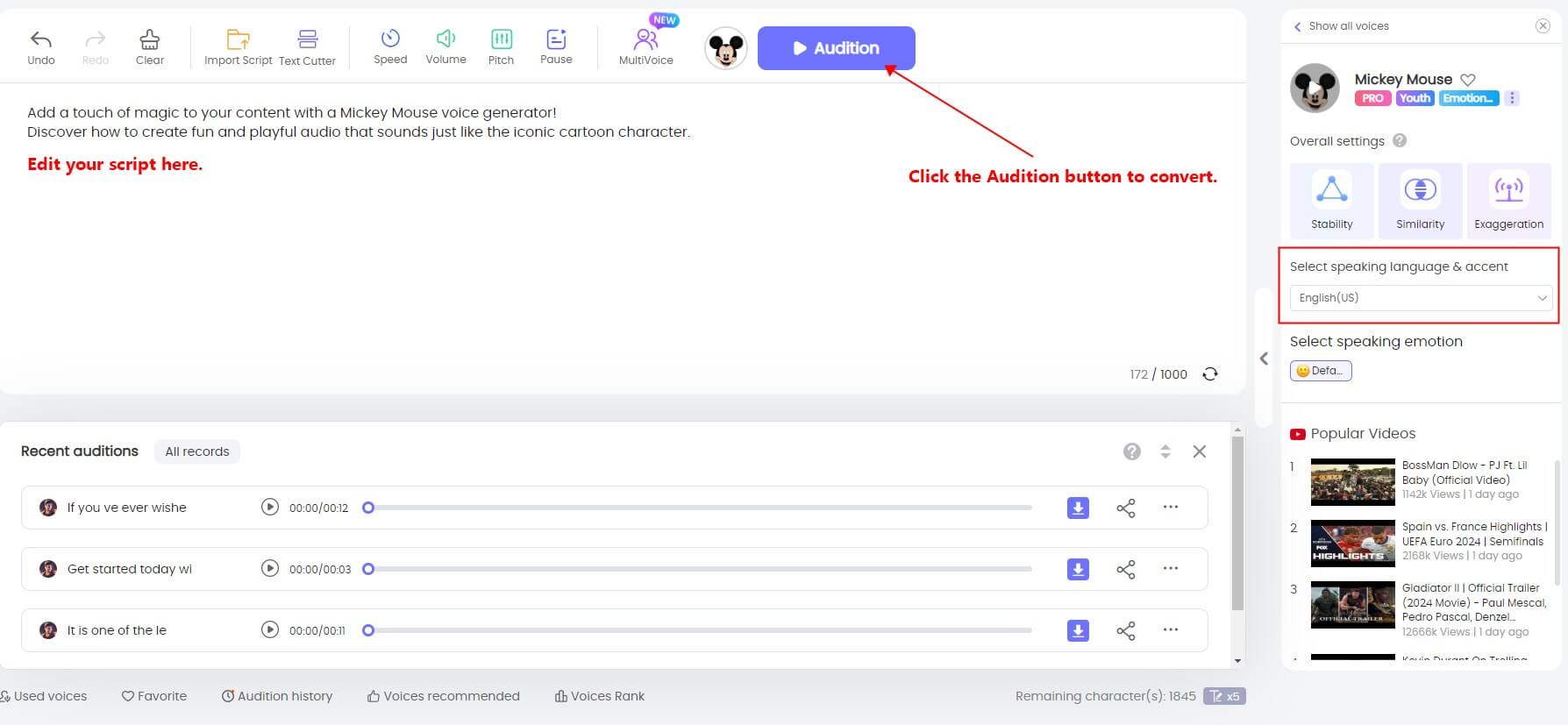 Step 4: Click the "Convert" button to instantly hear your text being spoken in Mickey Mouse's unique voice.
Step 5: When you're satisfied with the result, you have the option to download the generated audio as many times as you need.
Conclusion
Mickey Mouse is one of the world's most recognizable and adored characters. People of all ages love his voice and it is so readily recognized. If you've ever wished you could sound like Mickey Mouse, TopMediai Text to Speech is the tool for you.
TopMediai Text to Speech may be used to generate voiceovers for cartoons, foreign-language film dubbing, educational videos, and personalized greetings.
Try TopMediai Text to Speech today and start creating your own Mickey Mouse voice!
HOT FAQs about Character Voice Generator
1. Can I make an AI-generated character voice sound like Mickey Mouse?
Yes, you can. TopMediai Text to Speech is a character voice generator tool that offers a library of over 3,200 voices, including Mickey Mouse's voice, and allows users to edit the pitch of the generated voice to match their desired sound.
2. What are the best character voice generation tools available?
There are many character voice generate tools available, but some of the best ones are TopMediai Text to Speech, Fakeyou, Uberduck.ai and
VoxBox. These tools offer a wide range of natural-sounding voices, languages, and accents, as well as advanced features.
3. How can AI-generated character voices be used in creative projects?
AI-generated character voices can be utilized in various creative projects like fan-made animations, video games, podcasts, audiobooks, animations, games, and videos to create immersive stories, characters, and dialogues for audiences.
4. Is creating character voices with AI accessible for non-tech-savvy individuals?
Yes, it is. Character voice generator text-to-speech is very easy and intuitive. You just need to type or paste your text, choose a voice, and customize the settings according to your preferences. Then you can listen to or download the audio file in seconds.
5. Are there ethical considerations when using AI-generated character voices?
It is important to honor the intellectual property rights of the original voice actors and creators of the voices you use to create AI-generated characters. You should also be transparent about the use of AI-generated character voices.